Choose your vacation Accommodation in Germany
Accommodation in Germany can pretty much serve every budget; for the young and low budget traveller there are many youth hostels and low cost lodgings while those with campervans find various campgrounds, available in all holiday regions. From first class hotels to cosy cottages in the mountains, the range of places to stay is abundant.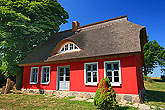 Vacation homes are one kind of accommodation in Germany
The German hotel trade is extremely well-equipped and those, offering facilities from swimming pools and saunas to exercise gyms are increasingly common. Depending on the money you spend you can even book hotels which are situated in old castles, palaces and monasteries. But you can generally expect even the cheapest places to be spotlessy clean, comfortable and well run. Travelling with kids you also have a huge variety of accommodations. Choose from homely holiday apartments and farm accommodation to countless hotels - they will all welcome children and babies with open arms. When touring the country with no fixed itinerary, it is obviously often difficult to make reservations in advance. That's no problem in most tourist regions; watch out for "Zimmer frei" (vacancies) notices by the roadside.
Search
accommodation in Germany