Fun around Berchtesgaden at Lake Konigssee
Berchtesgaden mountains provide to trekkers, mountaineers and mountainbikers unlimited options to pursue their favourite activities. Ambitious climbers can try their luck on the Watzmann-Ostwand, the highest face in the Eastern Alps but there are also several destinations for tourists with lower ambitions in sports.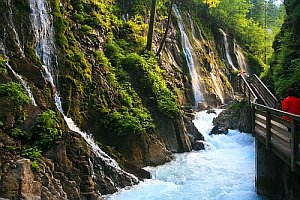 Wimbachklamm - Waterfalls - near Berchtesgaden Germany
They may take a cable-car to the Jenner and enjoy its magnificent panorama or just visit St. Bartholomä and have a typical Bavarian lunch there. There are many things to see and to do, check out our favourites:
Go for a bus ride from to the top of mount Kehlstein at 1834m to visit the Eagle's Nest (Kehlsteinhaus), which occupies one of the most breathtakingly scenic spots in Germany. That lodge was headquarters of Hitler's Nazi government and contains a museum and a restaurant today.
Day trip from Berchtesgaden Germany: Cross the Lake Königssee by an electric boat and listen to the trumpet solo played by the guide torwards the mountains to demonstrate the amazing echo. Get off at St.Bartholomä to visit the church and the nearby hunting lodge for lunch.
Boat tour's station Salet - after a short walk you'll get a wonderful view at the end of the valley: the lake Obersee, reflecting the mountains in its crystal-clear waters and the Röthbach waterfall (the highest in Germany) which plunges 400 meters down.
Start in Ramsau to explore the Wimbachklamm (a kind of slot canyon) on a well secured path to see spectacular waterfalls plunging thunderous into the gorge. Go on in direction Petrified Sea and see a great mountain scenery dominated by the wild river!
Discover the underworld of the Berchtesgaden salt mine wearing traditional miner's clothing. Ride down on a wooden slide into the depths where the highlights include glowing salt grottoes, the crossing of a subterranean lake on a raft and interesting insights on a guided tour.
You see, tourists have a huge amount of options what to do here and it's no problem to fill out every day with excitement, even when the typical German weather isn't good for outdoor activities. We, the GermanPlaces team, had a wonderful time there and looking forward to come back to Berchtesgaden Germany - for us one of the most breathtaking and impressive places in the country!
More information Berchtesgaden